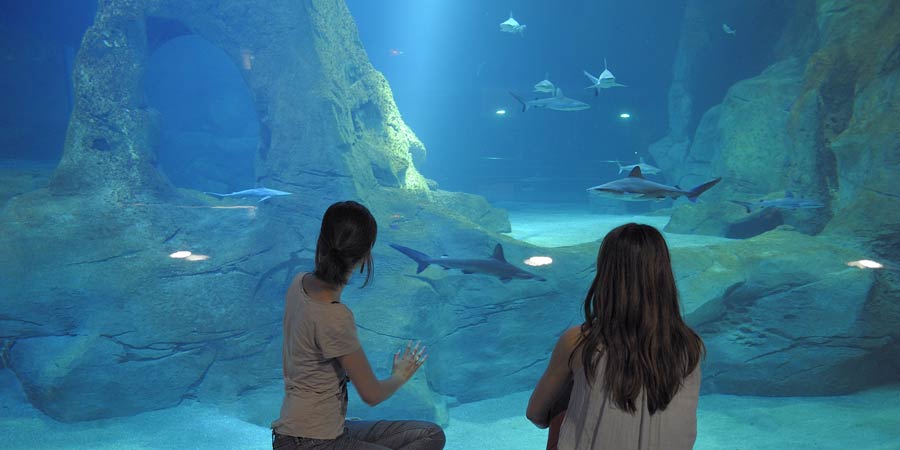 The Biarritz Aquarium has been modernised.
The surface area has doubled (from 3,500 m2 to 7,000 m2) and the circuit has been revamped. It now belongs to the family of large european aquariums.
You will still be able to admire the famous octopus, lobsters, plaice, cuckoo wrass, Bay of Biscay sea urchins, whale skeletons, the ray and turtle tanks…
Sit on the seal terrace and watch them swim, play or sunbathe…
A more developed scenographic setting
The Aquarium invites you on a voyage along the Gulf Stream, taking you through the North Atlantic before arriving in the warm and fish-filled waters of the Caribbean Sea. Head off round South America, navigating past Cape Horn into the Pacific Ocean before arriving in Indonesia. Throughout this voyage, you will be enthralled by the flora and fauna that is typical of each of the regions. Amazement guaranteed !
The Biarritz Aquarium now reveals its magnificent panoramic aquariums filled not only with tropical fish but also the fearsome-looking scalloped hammerhead sharks.
Crystal bubbles encrusted in the rocky decor hold astonishing species such as razorfish and mischievous clown fish depicting a setting that is aesthetically pleasing, contemporary and magical.
A totally new, original and relaxing tour across the oceans and seas of our blue planet.
By doubling its surface area, the Aquarium is now equipped with :
– 25 additional aquariums, including 2 large pools (300 m3 and 1,500 m3),
– an 11-metre long caribbean lagoon (120 m3),
– an educational workshop and multimedia for school groups (100 m2),
– consolidated technical services (filtration, quarantine rooms…) for the conservation of species (900 m2).